Product Description
KZYEE KS20 Battery Analyzer has been designed so as to be a car battery tester that is able to test any 12 V or 24 V batteries with a capacity of 100 to 1700CCA. It offers quick and reliable test
and analyze to battery including CCA Value, Voltage, Inner resistance,and battery life percentage. The numerical results are very useful to check your battery condition, avoid any unexpected shutdown
to your battery powered product. Also, it has great compatibility with a wide rang of batteries like AGM,GEL Cell,Flood, Marine Deep Cycle batteries.
KZYEE KS20 Battery Analyzer
This instrument can be used to test the vehicle battery, using the conductivity method to measure, it can test the conductivity value, CCA value and remaining useful life of the vehicle battery, it's convenient for users to determine whether the battery should be replaced. 320*240 color display, the display is intuitive, it supports both Chinese and English display. This instrument can be used for 12V and 24V battery.
KZYEE KS20 highlights:
KS20 easily, quickly and accurately measures the actual cold cranking amps capability of the vehicle starting battery
, healthy state of the battery itself, and common fault of the vehicle starting system and charging system, which can help maintenance personnel to find the problem quickly and accurately, thus to achieve quick vehicle repair.
The
KZYEE KS20 is a digital battery tester that has been made to test a wide range of vehicles
, ranging from motorcycles up to cars. Indeed, it has a versatile voltage test range of
9V to 30 V
as well as a wide testing capacity of
100 CCA to 1700 CCA.
With this car battery tester, you will be
able to see if your car charging system is working properly
as well as check if your car battery is sending the necessary amperage throughout the electrical system.
Start-up/Cranking Test
-- KS20 is able to displays the decision on the starter system, cranking voltage in milliseconds, allows you checks if the starting motor works correctly.
Analyze the charging system, including generator, rectifier, etc
., which gives you reliable data for your reference. Making sure the above mentioned parts is not in normal situation to prevent the battery over charge or incomplete charge.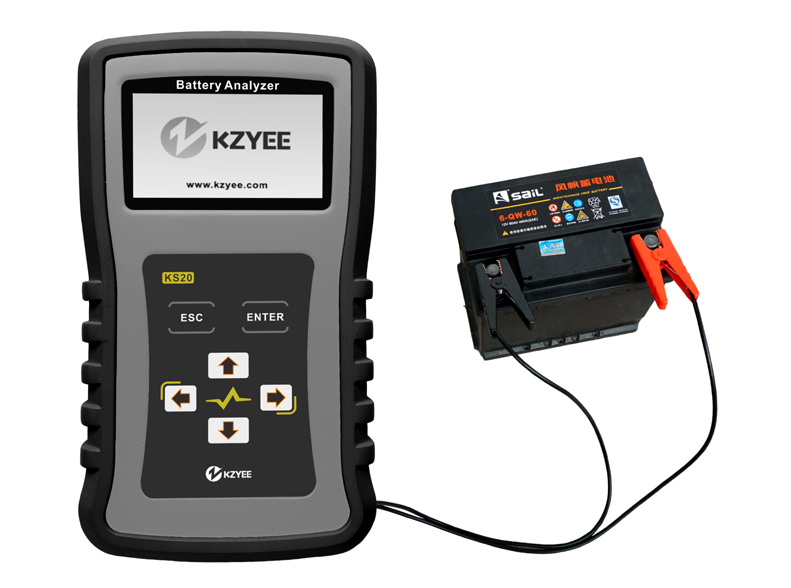 Why KS20?
1, Directly test the battery with loss of electricity, full charge is not required before testing.
2, Tests all battery rating systems-CCA,EN,DIN,JIS,IEC, and others
3, Tests the batteries on the car directly- no need to remove the battery.
4, Directly detects bad cells.
5, Quick and accurate test result display in seconds.
6, Tests 12V&24V charging system, advanced starter.
7, Quick starter analysis without disabling the ignition.
8, Does not emit light, heat or spark ,or discharge battery-keeps operation safe.
9, Automatic temperature compensation.
10, Ripple voltage test for easy and intuitive check of faults.
11, Feature with reverse polarity protection: reverse connection may not damage the tester or affect the vehicle and battery.
12, Multiple vehicle applications –passenger cars, mini vans, light duty and heavy duty trucks.
KZYEE KS20 Features:
1. This product is the testing tool for 12V and 24V vehicle, the testing voltage range is DC 9V to 30V.
2. Using the conductivity method to measure, the test is accurate, fast and easy to operate, and the display is intuitive
3. This instrument tests by low frequency signal, without an external large load to discharge, the battery will not be damaged.
4. The battery can be tested in car, the instrument itself without batteries, it will be charged directly by the battery under test, and it' s easy to use.
5.It is applied to the CCA(SAE) DIN, IEC, EN, JIS+ and Others battery test.
6. Applicable standards for the Battery: CCA(100-1700) EC(100-1000),EN(100-1700 DIN(100-1000),BCI(100-1700)
KZYEE KS20 Technical Parameters:
Testing voltage range: 9VDC to 30VDC
Applicable standards for the Battery:
CCA: 100~1700
IEC: 100~1000
EN: 100~1700
DIN: 100~1000
JIS: Look up the table to contrast CCA
KZYEE KS20 Four Test Results:
Lifetime
Test Results
Remarks
>80%
Excellent

The battery is in very excellent

condition

>60%

Passable

The battery is passable
>45%
Attention

The battery is OK, but need to pay

attention

<45%

Replace

The battery is at the end of its life.
How to Use KZYEE KS20 Battery Tester:
While using this product, please clip the black clamp of the instrument to the cathode of the battery under test, and clip the red one to the battery anode. The instrument will automatically power on , and display the function selection menu, as shown in the following figure, there are two functions: "Battery Test" and "Language".
Use the Direction Key to select "Language", and then press the ENTER key to enter the Language select menu, as shown in the following figure. Use the Direction Key to select the desired language, and then press the ENTER key to return to the function selection menu.
After setting the language, select the "Battery Test" function, press the ENTER key to enter the Battery setting menu, as shown in the following figure.
Press Direction Key to select the voltage of your battery, and then press ENTER key to enter the Item Selection menu.
There are four options in the item selection menu.
1. Battery test
2. Charging test
3. Start-up test
4. Load test
Press the ↑↓key can select the function that you need to test.
KZYEE KS20 Package Includes:
1pc x KZYEE KS20 Battery Analyzer
1pc x User Manual
Contact Information:

Whatsapp: +86-13995696053Email: sales@uobdii.comSkype: UOBD2.COM
Shipping Method and Delivery Time:
US, UK, Czech and Russia Warehouse Shipping:
3-5 working days. Fast Delivery & Tax Free.
US Check:
Ship from US
UK Check:
Ship from UK
EU Check:
Ship from C
zech
Russia Check:
Ship from RU
DHL Shipping:
3-5 working days. Usually we declare a lower value on DHL invoice to help with customs clearance. If address belongs to remote area, customer will need to pay remote handling cost or we can change to ship by EMS. Please remember to leave message if you have any special requirement.
Yanwen Express:
7-10 working days. No Tax or remote cost for European Countries.
Standard Post:
7-15 working days. To South America and Africa countries it may take 20-25 working days. Customers can tick Express Shipping Service to ship by DHL.