Product Description
KZYEE KC10 OBD2 code reader load power 8V-18V, is design to work with all OBD II compliant vehicles(Both diesel and gasoline engine), including those equipped with a CAN bus.Works on most 1996 US-Based, 2003 EU-Based and Asian cars. ( Such as passenger cars,suv,light cars, pick up, mpv after 1996 ).
KZYEE KC10 OBD II & CAN Code Reader Universal Classical OBDII Automotive Code Reader Diagnostic Scan Tool
KZYEE KC10 Features & Characteristics:
1. Read and clear trouble codes in all OBDII compliant vehicles from 1996 and newer
2. Supports all OBD II protocols and the Controller Area Network (CAN) protocol
3. Multilingual menu and Diagnostic Trouble Code definitions (English, French, Spanish)
4. Resets Check Engine light
5. Reads Power Control Module and Transmission Control Module data
6. Views freeze frame data
7. Reads O2 sensor data
8. Easy-to-read backlit LCD display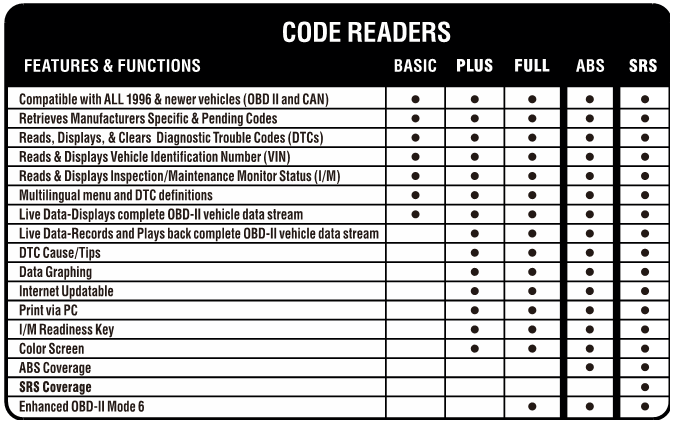 KZYEE KC10 Descriptions:
① OBD II CONNECTOR -- Connects the code reader to the vehicle's Data Link Connector (DLC).
② LCD DISPLAY -- Indicates test results.
③ ENTER/EXIT BUTTON -- Confirms a selection (or action) from a menu list, or returns to previous menu.
④ SCROLL BUTTON -- Scrolls through menu items. It is also used to enter system setup menu when pressed.
KZYEE KC10 Vehicle Coverage:
KC10 OBDII/EOBD Code Reader is specially designed to work with all OBD II compliant vehicles, including those equipped with the next-generation protocol -- Control Area Network (CAN). It is required by EPA that all 1996 and newer vehicles (cars and light trucks) sold in the United States must be OBD II compliant and this includes all Domestic, Asian and European vehicles.
A small number of 1994 and 1995 model year gasoline vehicles are OBD II compliant. To verify if a 1994 or 1995 vehicle is OBD II compliant, check the Vehicle Emissions Control Information (VECI) Label which is located under the hood or by the radiator of most vehicles. If the vehicle is OBD II compliant, the label will designate "OBD II Certified".
KZYEE KC10 Specifications
1) Display: Backlit, 128 x 64 pixel display
2) Operating Temperature: 0 to 60°C (32 to 140 F°)
3) Storage Temperature: -20 to 70°C (-4 to 158 F°)
4) Power: 8 to 18 Volts provided via vehicle battery
5) Dimensions: 109.98 mm (L) 67.06 mm (W) 19.43 mm (H)
6) NW: 0.198Kg (0.437lb) GW: 0.258 Kg (0.571 lb)
KZYEE KC10 Customers Reviews:

Reviews 1:
Excellent scanner helped me to delete a code from my car. It is very easy to use. Has an instructor that will teach you how to use it and understand the possible codes that our vehicles have. The appliance switches on when you connect it to the car.
Reviews 2:
very good basic auto scanner, works fine, great price. Works fine on 2009 Dodge RAM 1500 and 2016 Toyota Highlander. Quality construction
Reviews 3:
My husband has been using this nonstop. Simple enough for me to use also
KZYEE KC10 Package List:
1pc x KZYEE KC10 OBD II & CAN Code Reader
Contact Information:

Whatsapp: +86-13995696053Email: sales@uobdii.comSkype: UOBD2.COM
Shipping Method and Delivery Time:
US, UK, Czech and Russia Warehouse Shipping:
3-5 working days. Fast Delivery & Tax Free.
US Check:
Ship from US
UK Check:
Ship from UK
EU Check:
Ship from C
zech
Russia Check:
Ship from RU
DHL Shipping:
3-5 working days. Usually we declare a lower value on DHL invoice to help with customs clearance. If address belongs to remote area, customer will need to pay remote handling cost or we can change to ship by EMS. Please remember to leave message if you have any special requirement.
Yanwen Express:
7-10 working days. No Tax or remote cost for European Countries.
Standard Post:
7-15 working days. To South America and Africa countries it may take 20-25 working days. Customers can tick Express Shipping Service to ship by DHL.